Gretchen C. Valade Jazz Center
Gretchen C. Valade amplifies Detroit's jazz culture
After Gretchen C. Valade heard her sisters play Fats Waller on a Victrola when she was a young girl growing up in Grosse Pointe in the 1920s, the classical piano music she was learning to play suddenly held much less interest.
From that point forward, the granddaughter of work clothing magnate Hamilton Carhartt spent much of her free time cultivating her love for jazz as she raised a family with her late husband Robert Valade, who served as the CEO of Carhartt, Inc. and as she served on Carhartt's board. As Jazz's fiercest guardian and advocate in Detroit, Valade, who passed away at 97 years old on Dec. 30, 2022, grew her lifelong passion into an enormous investment in the city's jazz culture. And with her leadership gifts to Wayne State University, Valade ensures a future for jazz in Detroit.
Valade's gifts totaling $9.5 million to jazz studies and performance at Wayne State will fund the Gretchen C. Valade Jazz Center (GVJC), which houses a main hall designed specifically for jazz performance and a club-style venue. These two renovations to existing performance spaces will be part of the Hilberry Gateway integrated performing arts complex for theatre, music and dance. Her generosity will also foster a continued appreciation of jazz through two endowed gifts. The Gretchen C. Valade Endowed Chair will serve as the artistic director of the GVJC. The Gretchen C. Valade Endowed Scholarship in Jazz Studies, a graduate assistantship that supports the endowed chair role, will also support jazz education and performance at the GVJC.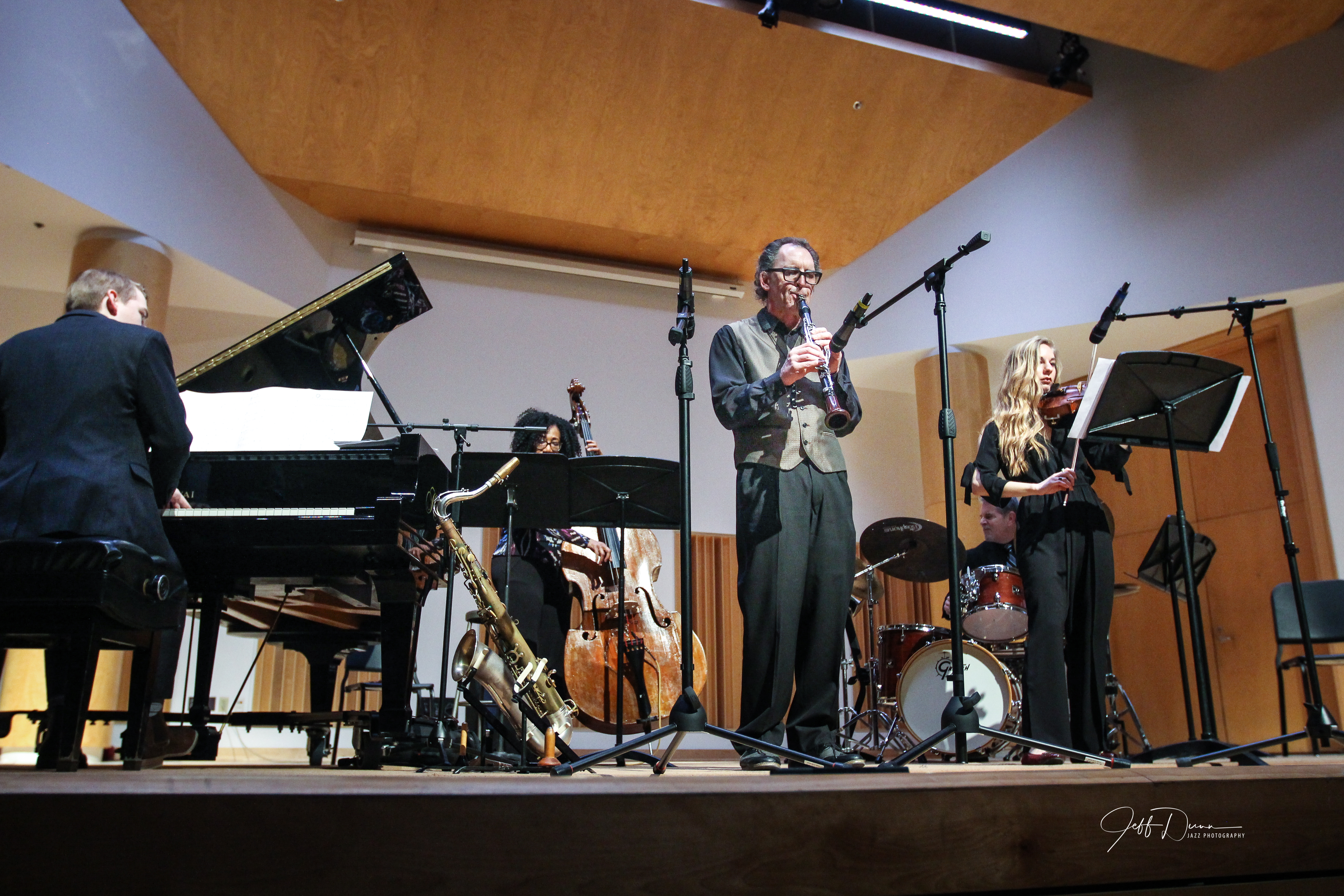 Continually investing in her love of jazz traditions, the unique Detroit legacy and the development of new artists, ensembles and compositional techniques, Valade believed in the scholarship and study of jazz, and in the rich culture surrounding it. So it made sense to her to invest in Detroit through a philanthropic partnership with jazz studies at Wayne State, where she has also helped to build an educational partnership with the Detroit Jazz Festival. With the support of Valade and under the leadership of Professor Chris Collins, the 43-year-old festival has been reinvigorated and is one of the largest true jazz festivals in the world.
"Due to her singular commitment to jazz, Gretchen has been dubbed the 'Angel of Jazz' by the global jazz community. Her passion, commitment and vision are a legacy in itself," said Collins, who is the inaugural Gretchen C. Valade Endowed Chair in Jazz.
Up until her passing, Valade chaired the Detroit Jazz Festival Foundation Board of Directors, which she established in 2005 with a $10 million endowment. "I'm passionate about jazz artists and spotlighting Detroit's rich jazz heritage," said Valade. The owner of Grosse Pointe's Dirty Dog Jazz Cafe and the national Mack Avenue Music Group record label, Valade promoted the musical careers of many Detroit and international jazz musicians and wrote songs herself, which have been recorded by the great Shirley Horn and others.
"Jazz, music, theatre and dance are important parts of Detroit's artistic and cultural legacy, and Gretchen's support has ensured that those traditions continue," said Matthew Seeger, former dean of Wayne State's College of Fine, Performing and Communication Arts.
Valade's philanthropic contributions are foundational to the Hilberry Gateway, a performance complex that will bring Wayne State's performing arts students together under one roof. Her gift of $5 million funds the renovation of the current Hilberry Theatre, transforming it into the world-class Gretchen C. Valade Jazz Center main performance hall. The hall will be designed specifically for jazz performances and will feature high-profile concerts, a high-tech audio system and two Steinway grand pianos. An additional gift of $2 million funds a renovation of the Hilberry Theatre's basement Studio Theatre to create an intimate space for jazz performance, jam sessions, jazz workshops and jazz films as well as other Department of Music and college activities.
"I am so very grateful to Gretchen for her continuing generosity," said Wayne State University President M. Roy Wilson. "Leading institutions of higher education like Wayne State must reaffirm their commitment to the arts and humanities. The Gretchen C. Valade Jazz Center and the Hilberry Gateway will send a strong signal of Wayne State's support for excellence in the arts.
---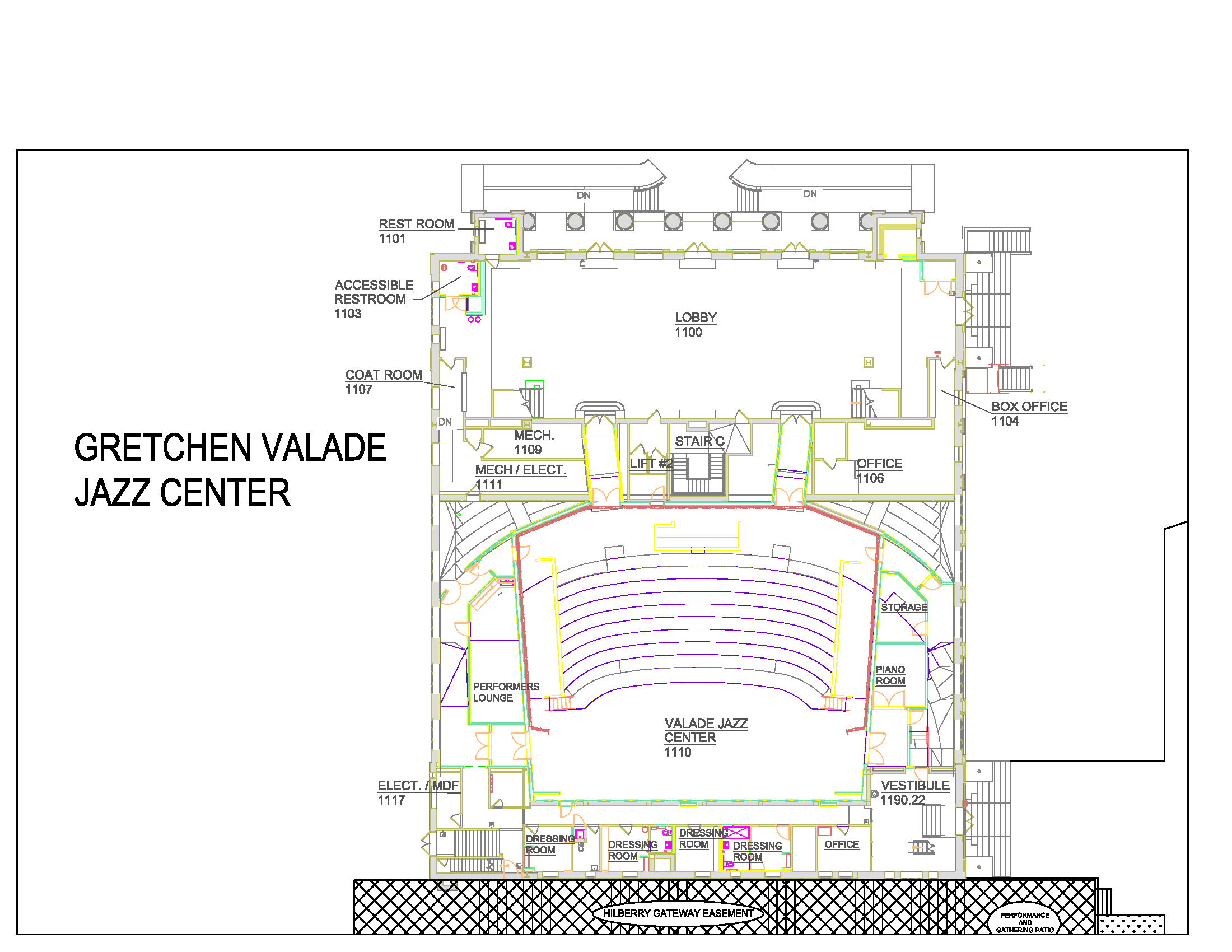 Gretchen Valade Jazz Center Highlights:
An extensive renovation of the Hilberry Theatre

350 seats (with increased leg room)
Outstanding acoustics
Renovated and expanded restrooms
Star dressing rooms
Choral and Orchestra dressing rooms
Elevator access to restrooms and lower level
Underground Jazz Café on the lower level
---
DETROIT'S NEW DESTINATION FOR THE ARTS
Detroit and Wayne State have made legendary contributions to theatre, music and dance, and as we shape the future of performing arts education and presentation in the Hilberry Gateway complex, we know we can only be successful with your support.
The performing arts have always had the power to bring people together to share stories, songs and experiences. Something about the rhythms of speech and music, the grace of actors and dancers, and the interaction between artists and audience. They make an impact on us, and we carry these moments in our collective memories. We were there. At the Hilberry Gateway and Gretchen C. Valade Jazz Center, we will be there again.
For updates on construction including a livecam, news and images about the Hilberry Gateway, visit www.theatreanddanceatwayne.com/about/hilberrygateway.
For more information about supporting this new home for performing arts in Detroit, contact Dana Gamarra at danagamarra@wayne.edu.