Joseph Dobos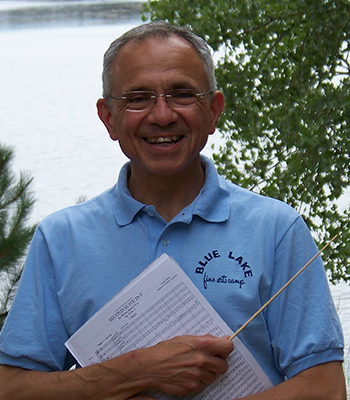 Part-Time Faculty, Concert Band
Biography
Joseph Dobos has been an instrumental music teacher for 40 years of which 34 were in the Lapeer Community Schools. Under his direction, the Lapeer East High School Bands received First Division Ratings at MSBOA State Band Festival for 31 consecutive years. His bands performed 7 times on the stage of Hill Auditorium at the Midwestern Music Conference on the campus of the University of Michigan. Bands from Lapeer East performed at music education conferences in Toronto, Chicago, Knoxville, Montreal, at Central Michigan University, and at Western Michigan University. During the summer, he is a member of the conducting faculty at Blue Lake Fine Arts Camp where he has taught for the past 28 years. After retiring from Lapeer, he taught 6 more years at Oakland Christian High School in Auburn Hills. He is a past conductor of the Genesee Wind Symphony
A native of Imlay City, Michigan, Mr. Dobos received his Bachelor and Master of Music degrees from The University of Michigan where he studied with William Revelli, Elizabeth Green, John Mohler, and Larry Teal.
Mr. Dobos is a member and has served as an officer of the Michigan School Band and Orchestra Association. He is a past state chairman for the National Band Association. He is active as an adjudicator, clinician, and guest conductor. He is also a member of the Organ Historical Society and the National Association of Pastoral Musicians. He has served on the Board of Governors of the University Of Michigan School Of Music Alumni Association and has served as president of the University of Michigan Band Alumni Association.
In 1993, Mr. Dobos was named "Band Teacher of the Year" by the membership of the MSBOA and served as a guest conductor of the Youth Arts Festival State Honors Band. He is a recipient of the Citation of Excellence from the National Band Association and was the first band director in the Midwest to be recognized by the Interscholastic Association of High Schools. He has been honored as an outstanding teacher by the Lapeer County Great Teachers Foundation, the Wal-Mart Teacher Award Program, and the Lapeer Community Schools Distinguished Educator foundation. He was named one of the fifty most influential music educators in the country by SBO Magazine and has been featured as the "person of the week" on both WJRT and WEYI television news programs.
He has presented music education clinics at the Michigan Music Inservice Conference, the Chicago Midwest Music Clinic, the Midwestern Music Conference, and the New England Band Directors Institute. Mr. Dobos is also a church organist and choir director. His performance on organ has been heard on the National Public Radio broadcast, Pipedreams.
As a member of the faculty of Blue Lake Fine Arts Camp, he has conducted the Symphony Band, Wind Ensemble, and the International Northern Winds. In recognition of his service, he was elected to the Blue Lake Fine Arts Camp Hall of Fame.
He has written articles for several music education publications including the World Association for Symphonic Bands and Ensembles (WASBE) Journal. Currently, he is co-author of a soon to be published biography of William Revelli.