Paul Keller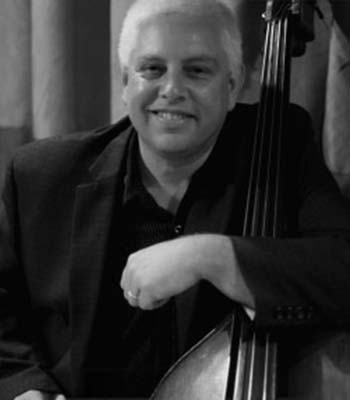 Applied Faculty, Jazz Bass
Biography
Paul Matthew Keller was born March 11, 1962. He began studying the string bass at age 12. By age 16 Paul had played his first jazz gigs in his hometown of Grand Rapids, MI. He continued his classical music education at the University of Michigan and moved to Ann Arbor permanently in 1986.
Today, Paul is one of the busiest bassists in the Detroit area. He has earned the nick-name "The House Bass Player For The State Of Michigan" as each year, he logs so many miles traveling across the state to perform at various music venues. At his home-base, the Firefly Club in Ann Arbor, MI, Paul leads the 15-piece Paul Keller Orchestra, which plays original, obscure and classic big band material from all periods of jazz history. Under Paul's expert leadership, the PKO (formerly known as the Bird of Paradise Orchestra) has garnered critical and popular acclaim, accepting Washtenaw Council for the Arts "Annie Awards" and Detroit Music Awards for excellence in performing arts. Their CDs are: Hallelujah Train, Project X, BINGO!, Paris Blues, A Tribute To Count Basie and A Tribute To Benny Goodman. These recordings spotlight Paul's fine compositions and arrangements. The Paul Keller Orchestra has enjoyed two tours of Europe. The PKO performs every Monday night from 8:00 PM till 11:00 PM at the Firefly Club in Ann Arbor. PKO big band Monday nights at the Firefly Club are a beloved Ann Arbor tradition! Check out www.fireflyclub.com.
Paul is co-leader of the popular Keller/Kocher Quartet. Together since 1987, they recorded Midnight Sun and Pipe and Slippers. This group features the vibraphone wizardry of Cary Kocher. The KKQ tips it's hat to George Shearing, Nat King Cole and Lionel Hampton.
The Paul Keller Ensemble is a three-horn sextet that features creative arrangements by Keller and his bandmates. The PKE's 2005 CD Steady Gig features their vocalist Susan Chastain singing 11 of her favorite standards with memorable arrangements by Keller. The PKE's 2003 CD Christmas Songs For Jazz Lovers contains 12 joyful performances of Holiday classics. The PKE's 1997 CD, Tall Corn, includes seven original Keller compositions and showcases the band's extraordinary improvising skills. Tall Corn celebrates through jazz the season of harvest and the beauty of autumn. The PKE performs every Wednesday night from 8:00 till midnight at the Firefly Club in Ann Arbor, Michigan. Check out www.fireflyclub.com.

Photograph by Jenny Geunther
jgeuntherphotography@yahoo.com
Keller's groups are well known and highly regarded throughout Michigan. His jazz groups have appeared at many regional music festivals, including the Detroit International Jazz Festival, the Ann Arbor Summer Festival, the Ann Arbor Jazz and Blues Festival, The Michigan Jazz Festival and the Flint Jazz Festival. They have presented successful concerts for the Thunder Bay Arts Council, the Crooked Tree Arts Center, the West Michigan Jazz Society, The Dennos Museum Center at NWMU, the Windsor/Detroit Jazz Club, Bay City's State Theatre, the Detroit Symphony Orchestra and the Detroit Institute of Arts.
Keller is a member of trumpeter Marcus Belgrave's Salute to Louis Armstrong. This group plays about 30 dates a year in concert venues across the US.
Keller tours with his long-time bandmates drummer Pete Siers and vibraphonist Cary Kocher as members of clarinetist Dave Bennett's Benny Goodman Tribute band. This band travels to all parts of the US and performs about 30 dates a year as a sextet as well as with various symphony orchestras. Keller wrote 13 original arrangements for full orchestra for Bennett's 75-minute Benny Goodman Symphony Pops Show. Together they have performed this spectacle with the Columbus Symphony Orchestra, the Kingston Symphony, the Windsor Symphony Orchestra, the Detroit Symphony Orchestra and the San Antonio Symphony. For more information about this symphony show contact Hugh Leal at lealjazz@cogeco.ca.
Paul travels frequently to Jazz Festivals and Jazz Parties throughout the U.S. including the Sacramento Jazz Jubilee, Dixieland Monterey (Monterey, CA), The Summit Jazz Party (Denver, CO), The West Coast Jazz Party (Irvine, CA), The Newport Beach Jazz Party (Newport Beach, CA) and The Cape May Jazz Festival (Cape May, NJ).
Paul has been recognized internationally for his association with pianist/singer Diana Krall and guitarist Russell Malone. From 1993 to 1997 he toured the world, first with Malone, then with with Krall and Malone. Together they performed at the North Sea Jazz Festival, the Blue Note Jazz Clubs of Japan, the Algonquin Hotel and the JVC, Newport and Playboy Jazz Festivals, among many others. In 2006, Paul performed with Diana Krall for former US President Bill Clinton. Paul has played with Diana on national TV on The Late Show with David Letterman (CBS), The Late Late Show with Craig Ferguson (CBS), The Tavis Smiley Show (PBS) and The Tonight Show with Jay Leno (NBC).Keller appears on Malone's CD Black Butterfly (Columbia) and on Krall's Grammy-nominated recording All For You (GRP/Impulse).
In 1999, Paul formed BOPO Records, his own recording label. In 2002, the Bird of Paradise Orchestra became known as the Paul Keller Orchestra and BOPO Records became PKO Records. The PKO Records catalog has now grown to include 36 CDs by Keller and many other outstanding Midwest jazz performers. For more information about Paul Keller, his jazz groups and the other featured artists on the PKO Records label, log onto www.pkorecords.com.
Paul has played on over 60 CDs with artists such as Diana Krall, Russell Malone, Tom Saunders, Chuck Hedges, Eddie Higgins, Larry Fuller, Johnny O'Neal, Bess Bonnier, Jon-Erik Kellso, Dan Barrett, Rebecca Kilgore, Phil DeGreg, Mr. B, Steve Wood, Rick Roe, Ellen Rowe, Marcus Belgrave, Franz Jackson, Pete Siers, Dan Faehnle and Larry Nozero. Paul has also performed in concert with jazz greats Joe Williams, Cab Calloway, Oliver Jones, Clark Terry, Red Holloway, Gene Bertoncini, Jeff Hamilton, Scott Hamilton, Ken Peplowski, Jake Hanna, Terry Gibbs, Dee Dee Bridgewater, Mark Murphy, Doc Cheatham, Byron Stripling, Jay McShann, Barry Harris, Mulgrew Miller, Jessica Williams, Bill Mays, Kenny Drew, Jr., Herb Ellis, Bucky Pizzerelli, Mark Elf and James Moody.
Paul was honored by the West Michigan Jazz Society as their 2001 Jazz Musician of the Year and by the Detroit Music Awards as the 2002 Outstanding Jazz Instrumentalist.
Paul and his wife Michelle have two beautiful kids: a five-year-old daughter named Leah and a two-year-old boy named Nathaniel. They live in Saline, Michigan.